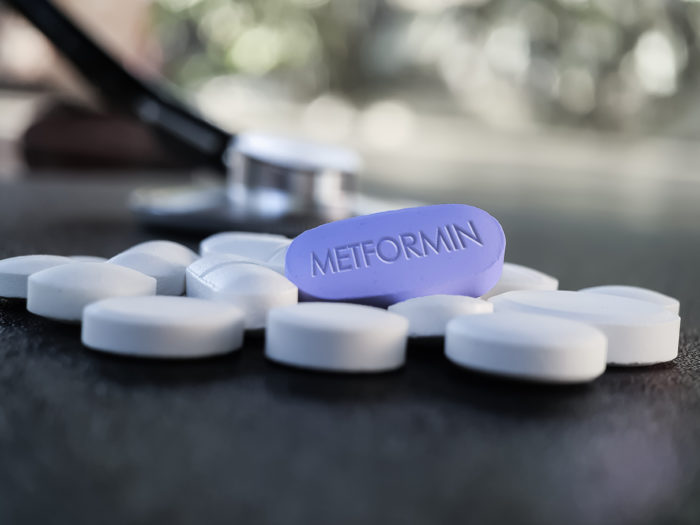 Can Metformin reduce mortality rates in Covid-19?
February 24th, 2021
The medicine Metformin has been significantly associated with reduced mortality rates in Covid-19. Highly contagious and lethal, the respiratory and vascular damaging coronavirus has swept across the world and scientists have constantly and intensely studied the pandemic. 
Now, more than a year after the discovery of the virus, vaccines have been rolled out in a lot of countries and important discoveries have been made. Over 150 vaccines are currently in development and headline research has revealed that Metformin, an FDA approved medicine, can potentially reduce mortality rates in Covid-19. 
Metformin is commonly prescribed for type 2 diabetes and anti-aging, it has been documented that its properties can also suppress virus growth. Therefore, those people who contract Covid-19 whilst they have been taking Metformin potentially have a higher rate of survival. However, specialists have said that more in depth research and testing needs to be carried out. Metformin has been used as an anti-inflammation, antithrombotic and anti-viral drug which could explain their findings and emphasis has been put on the fact that Metformin acts as an mTOR inhibitor. 
How does COVID-19 infect the body?
The Coronavirus has "crownlike" spikes that cover its surface – this is why is it called the "Coronavirus" as it looks almost as if it is wearing a coronet, or crown.
Once this virus enters the body, these spikes can attach to the cells in the airway. Once attached, they infect the cells with a snippet of RNA. These cells are the ones that make a protein called ACE2, but once infected, read the new RNA from the Coronavirus and start to make proteins that suppress the immune system and allow the virus to replicate.
How does Metformin work?
Studies have revealed that as an mTOR inhibitor, Metformin can play a role in blocking pathways leading to doorways for Covid-19 viral replication and growth. The inhibitor suppresses cell proliferation and interrupts viral translation decreasing the possibility of the deadly virus spreading further into the body. If the virus can't be blocked it will create thousands and millions of copies that will go on a journey of mass destruction leading to severe symptoms, long term organ damage or sadly death. 
Investigations into the use of Metformin as a barrier from Covid-19 have resulted in some experts believing that if a person has been taking Metformin for some time before contracting the virus it can reduce the likelihood of death. 
What scientific evidence is there?
A study reported in the Journey of Medical Virology concluded that:
The situation and literature relating to COVID-19 and possible therapeutic agents is evolving continually
The understanding of the viral cycle of SARS-CoV2 and the pathogenesis is improving
There is growing evidence that mTOR pathways play a role in the cellular response to the virus
Read the full article here. mTOR inhibition in COVID‐19: A commentary and review of efficacy in RNA viruses – Karam – – Journal of Medical Virology – Wiley Online Library
Scientists from around the world will continue studying the viral life cycle of Covid-19 and its mutations. The experts will develop new therapies and repurpose existing drugs such as Metformin. Through their intense and rapid testing and high speed discoveries the scientists will hopefully have the ability to prevent the next pandemic before it starts. 
For more information about Metformin head over to our website here: http://bit.ly/MetforminInfo
Reference:
mTOR inhibitor in COVID-19: A commentary and review of efficacy in RNA viruses. Basil A. Karam MD. Et, Al. First published: 12 December 2020.