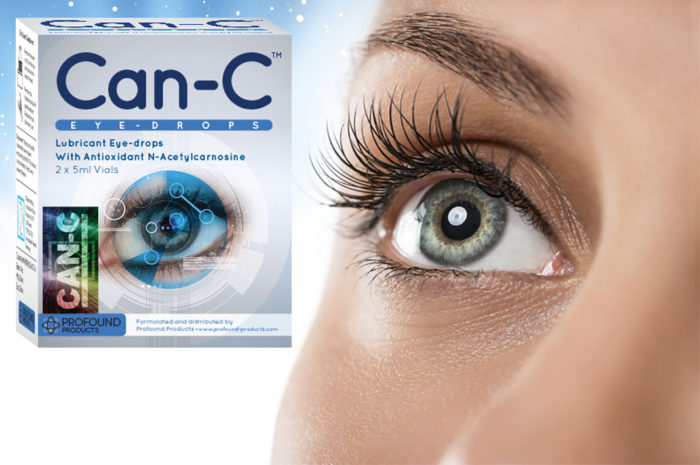 Can-C eye drops – 10 years on
November 29th, 2016
Can-C eye drops – 10 years on
Marios Kyriazis MD
The patented form of N-acetylcarnosine eye drops (Can-C) has been used for several years for the treatment of cataract and other eye conditions. Many thousands of patients have noticed improvement of their vision, ranging from mild improvement to complete resolution of the condition. According to the manufacturers of Can-C lubricant eye-drops, over half a million bottles were sold worldwide to-date.
The research behind N-acetylcarnosine (NAC) for cataract is quite impressive, but in the past couple of years new evidence has supported the case for using it against not only cataract but also against glaucoma, eye irritation, the computer eye syndrome, contact lens problems, generally dry eyes, sensitivity to glare, and other eye conditions. It is known that cataract alone is the cause of over half of all cases of blindness across the world. Research supporting the use of NAC eye drops has shown that it prevents age-related damage to the crystallin molecule which is the principal protein that is involved in cataract.
Cataract
N-acetylcarnosine is an imidazole-containing dipeptide and an effective modulator of the function of crystallin. It is resistant to carnosinase, the enzyme that destroys carnosine in the tissues. In addition, NAC reduces oxidative and glycation-related stress both of which are prominent in causing age-related eye damage.
Research into the benefits of NAC also shows that another imidazole-containing dipeptide, namely carcinine, has benefits similar to those of NAC and this strengthens the case supporting NAC's benefits. It clarifies the fact that NAC and carcinine used as lubricant eye drops act as pharmacological chaperones and heat shock protein enhancers that may even have positive actions in age-related macular degeneration (1).
Glaucoma
In primary open-angle glaucoma, there is considerable oxidative damage in the anterior segment of the eye. This oxidative damage has been implicated in many other eye conditions in addition to glaucoma and cataract, including retinopathy of prematurity, and age-related macular degeneration. Therefore, pharmacological agents such as NAC which act to reduce oxidative damage have been shown to have noticeable benefits in such conditions. However, the research regarding the use of NAC in glaucoma in addition to cataract, is becoming progressively convincing (2). The combination of NAC eye drops plus oral non-hydrolysed carnosine may be an effective way of treating not only glaucoma but also cataract, and specifically ripe cataract which is notoriously difficult to treat. This combination may be used in addition to conventional anti-glaucoma therapy with beta blockers and adrenergic agonist medication. Furthermore, as mentioned above, the regime can be enhanced with the addition of carcinine. The combination of carnosine and carcinine regulates several neuronal functions which ultimately prevent further eye damage. In addition, this combination modulates apoptosis and reduces the unnecessary loss of health cells from within the eye tissues.
Dry, irritable eyes and other eye problems
Because Can-C contains, in addition to NAC, several eye lubricant molecules, it has been used for dealing with dry eyes, irritation due to contact lenses and eye irritation due to computer screens or due to other causes. The NAC content is useful because it deals with excessive free radical production within the eye, which happens as a result of the irritating agent. Even if the patient just has dry eyes and has no cataract or glaucoma, the use of Can-C eye drops can still be beneficial in this respect because it helps reduce the risk of developing serious eye conditions in the future. Patients using  Can-C eye drops have reported benefits in a wide range of other eye conditions such as eye strain, corneal disorders, presbyopia and blurred vision.
Patented NAC
Researchers who have studied the effects of NAC in the eye over the past several years continue to examine ways of delivering the agent directly to the eye tissues without loss of its biological activity. The aim is to increase bioavailability of NAC inside the eye so that its biologically active metabolite (carnosine) would be able to stay active for long periods inside the cornea. The researchers have used a vast array of modern techniques in this respect including nuclear magnetic resonance and electronspray ionisation mass spectroscopy.
The specific manufacturing process of patented NAC (i.e. the Can-C eye drops) includes a mucoadhesive cellulose-based compound together with several corneal absorption promoters in an ocular drug delivery system. This combination ensures that NAC as the active ingredient concentration within the eye is maximal and long-lasting (3).
As mentioned above, researchers found that NAC used as a 1% lubricant eye drops can have positive effect not only in cataract but also in other eye conditions where oxidation is involved, such as in primary open angle glaucoma and ARMD. However, the beneficial effect depends on the drug delivery formulation of the eye drops and it is therefore important to use NAC eye drops that have been specially marketed with the correct delivery method (4).
Some scientists believe that NAC has only an indirect antioxidant effect upon the tissue of the eye, and that its benefits are due to the formulation of the preparation (such as in the case of Can-C proprietary drops). This matter has been debated in some detail but opinions remain divided (5).
Unsuccessful Treatment
Patients using Can-C eye drops have reported:
"I was having extreme sensitivity to sunlight in the left eye, now it hardly bothers me"
"My vision in my left eye improved from 20/40 to 20/25"
"Using Can-C, my lens cloudiness has reversed, my right eye vision has improved back to 20/20 from 20/30, and my opthalmologist is no longer certain that I have normal-tension glaucoma"
"I had an independent Optometrist check to see if the Can-C drops were doing any good before I ordered more drops. The Optometrist said he could not see any cataracts. I have had a cataract in my right eye for 3 years and a cataract in my left eye for 6 months according to my Optometrist"
However, there also have been some negative reports. As with any pharmacological or therapeutic agent, the use of NAC has not been without failure. Reports have been received of patients who have not experienced any appreciable improvement in their condition, even after using Can-C for several months. This may be due to as variety of causes, but a primary reason is that NAC eye drops on their own, are not fully effective in some cases of ripe cataract, in other words when cataract has been fully established. The most benefits have been encountered in cases of mild cataract and for prevention. Having said that, many patients with ripe cataract have reported some benefit, so the treatment may be a good idea to try in any case.
For a full and all round benefit it may be worth using Can-C in addition to oral combination of agents that have been proven to improve eye disease. Apart from oral N-acetylcysteine, the combination (proprietary name is 'Can-C Plus' in capsule form) can also include carnosine, histidine, pantethine, methionine and zinc, which act as antioxidants, molecular chaperones, and anti-inflammatory factors which work synergistically enhancing each other's action, attacking the damage from the inside. This combination is also thought to enhance the action of Can-C eye drops, making it much more effective within the lens of the eye.
References
Babizhayev MA. Structural and Functional Properties, Chaperone Activity and Posttranslational Modifications of Alpha-Crystallin and its Related Subunits in the Crystalline Lens: N-acetylcarnosine, Carnosine and Carcinine act as Alpha- Crystallin/Small Heat Shock Protein Enhancers in Prevention and Dissolution of Cataract in Ocular Drug Delivery Formulations of Novel Therapeutic Agents. Recent Pat Drug Deliv Formul. 2012 Aug 1;6(2):107-48
Babizhayev MA. Biomarkers and special features of oxidative stress in the anterior segment of the eye linked to lens cataract and the trabecular meshwork injury in primary open-angle glaucoma: challenges of dual combination therapy with N-acetylcarnosine lubricant eye drops and oral formulation of nonhydrolyzed carnosine. Fundam Clin Pharmacol. 2012 Feb;26(1):86-117
Babizhayev MA, Khoroshilova-Maslova IP, Kasus-Jacobi A. Novel intraocular and systemic absorption drug delivery and efficacy of N-acetylcarnosine lubricant eye drops or carcinine biologics in pharmaceutical usage and therapeutic vision care. Fundam Clin Pharmacol. 2011 Jul 27.[Epub ahead of print]
Babizhayev MA. Bioactivation antioxidant and transglycating properties of N-acetylcarnosine autoinduction prodrug of a dipeptide L-carnosine in mucoadhesive drug delivery eye-drop formulation: powerful eye health application technique and therapeutic platform. Drug Test Anal. 2012 Jun;4(6):468-85
Ha JW, Schwahn AB, Downard KM. Ability of N-acetylcarnosine to protect lens crystallins from oxidation and oxidative damage by radical probe mass spectrometry (RP-MS). Rapid Commun Mass Spectrom. 2010 Oct 15;24(19):2900-8.