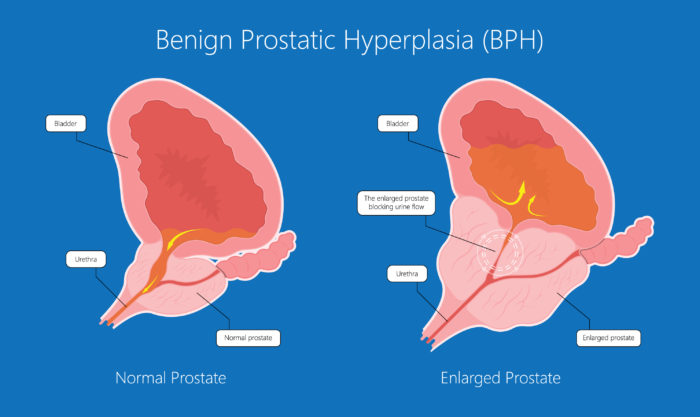 Benign Prostatic Hyperplasia – it's a man thing
September 20th, 2021
It's a man thing…
The medical term for an enlarged prostate is Benign Prostatic Hyperplasia (BPH). The prostate is a gland found only in the male body and it sits below the bladder. When a man passes urine it flows through a tube called a urethra and then out through the penis. The urethra passes through the prostate to the penis this is why there is a problem if the prostate is enlarged. There's a constant discomfort with BPH, it's a man thing that many mature men can relate to. 
BPH isn't the same as prostate cancer although they do share similar symptoms, once BPH is diagnosed there are many options of how to deal with it including monitoring or surgery. BPH is something that can cause a man discomfort and fear, unfortunately, some men find it embarrassing to talk about the symptoms and are reluctant to have an examination by a doctor. A few moments of embarrassment can result in a great sense of relief and more control over a man's bladder. It's a common problem, 8 out of 10 men develop an enlarged prostate with 90% over age 85 being diagnosed with BPH.
Are you experiencing prostate discomfort? Or, do you have male family or friends who are complaining that they have to keep going for a wee? If the answer is yes, read on. 
As men age, the prostate increases in size and the amount varies from man to man, the increase can result in BPH symptoms such as:
An inability to pass urine and feeling pain

Difficulty in passing urine

A poor or slower stream

A delay in starting to urinate

A sudden urge to urinate

Urinating more often

A sensation of a full bladder

Leakage
There are influencing factors to BPH
There are influencing factors to BPH, it is reported significantly less among black people than white people, according to a study of 21,949 men. Despite an apparently lower prevalence of BPH, black people with BPH are more likely than white people to have had surgery for the condition. Other studies suggest that it is less common in Asian men. BPH can also be hereditary or accelerated by diet and lifestyle. 
How easy is it to diagnose BPH?
A doctor will start by asking a man detailed questions about his symptoms and doing a physical examination. The investigative process is likely to include:
A digital rectal examination where the doctor inserts a finger into the rectum to check the prostate for enlargement

A urine test to rule out an infection or other conditions that can cause similar symptoms

A blood test to look for any kidney problems

Prostate-specific antigen (PSA) blood test. PSA is a substance produced in your prostate. PSA levels increase when you have an enlarged prostate. However, elevated PSA levels can also be due to recent procedures, infection, surgery or prostate cancer

An ultrasound scan
Medical management of BPH
Medical management of BPH is most beneficial for those with mild symptoms, it involves drugs to control the BPH but it's not a cure. The drugs available are alpha-blockers (relax the prostate) and 5 alpha-reductase inhibitors (shrink the prostate).
Surgery on an enlarged prostate
Surgery on an enlarged prostate is an effective way of reducing the symptoms although there is a very slight chance that it could get worse. With advanced technology, different surgical technics are being developed such as:
Prostatic stents

– prostatic stents can be inserted and they expand and push back the prostatic tissue to widen the urethra

Laser therapy

– this involves a laser probe being inserted gently up the penis into the enlarged prostate area. Laser energy is fired to this area under direct visual guidance of the Urologist

Interstitial therapy

– this is a technic that uses radio frequency or laser energy to deliver high temperatures or energy to the enlarged prostate to reduce it in size

Transurethral electrovaporization

– this is a technique used similar to the two mentioned before, here the prostatic tissue is not removed by the traditional resection cutting technique but with a probe that vaporizes the tissue

Transurethral microwave thermotherapy

– this is a microwave therapy that is applied to the prostate to heat it up, the urethra is not damaged during this as a cooling system is used alongside the probe
Drug therapy is becoming an increasingly common treatment for BPH. It's important to weigh up the pros and cons of surgery. Some men decide to take the 'watch and wait' approach to see if the symptoms of BPH get better over time. 
BPH and prostate cancer
People often confuse an enlarged prostate with cancer because they believe the increased size is due to abnormal growth. However, a study by Kiran R. Nandalur, MD, Vice President of Diagnostic Radiology and Molecular Imaging at Beaumont Hospital, Royal Oak said that his research showed patients with an enlarged prostate appear to have lower odds of significant prostate cancer.
"Previous studies are unclear whether BPH increases, decreases, or has no effect on prostate cancer risk," said Dr Nandalur. "Our findings should help reduce possible fears about significant prostate cancer when diagnosed with BPH, which is often misunderstood by the public. According to the studied MRI data, patients with BPH appear to have a potential protective factor against prostate cancer. The results may also explain why previous data have shown commonly prescribed drugs used to treat BPH may result in higher-grade prostate cancer. However, individualized management of a patient's BPH is best determined after consultation with his physician."
Most recent developments in BPH
An article published by the Urology Times has revealed the results of a study that supports the use of single-port robotic prostatectomy for large-gland BPH. It produced impressive clinical and functional outcomes in patients with BPH. 
Providing background for the study, first author Susan Talamini, MD, a urology resident at the University of Illinois at Chicago said, "The treatment of large-gland BPH can pose significant surgical challenges. AUA guidelines recommend consideration of open, laparoscopic, or robot-assisted prostatectomy as treatment options by clinicians, depending on their expertise with these techniques, only in patients with large to very large prostates, >80 gm. The recommendation is categorized as Moderate, with a Grade C evidence level."
Find out more here.
Product worth a mention:
Prostate Bioregulator (Nature's Marvels™)– Normalizes the function of the prostate.
Prostate enlargement or BPH is the most common prostate problem for men with increased need to urinate, poor emptying of the bladder and stuttering urine flow. Other issues include prostatitis and prostate cancer. Libidon has been shown to help reduce BPH, inflammation of the prostate as well as helping with erectile dysfunction and reduced libido. Often used in combination with the Bladder and Testes Bioregulator.
For more information about the Prostate Bioregulator (Nature's Marvels™) : https://www.antiaging-systems.com/products/prostate-bioregulator-natures-marvels/
Further Reading:
Benign Prostatic Hyperplasia https://www.nhs.uk/conditions/prostate-enlargement/
Prostate cancer
Study
https://www.renalandurologynews.com/home/news/urology/benign-prostatic-hyperplasia-bph/bph-appears-less-prevalent-in-blacks/
Hereditary
https://www.healthline.com/health/enlarged-prostate/bph-risk-factors#risk-factors
Diet
https://www.mayoclinic.org/diseases-conditions/benign-prostatic-hyperplasia/expert-answers/enlarged-prostate-and-diet/faq-20322773#:~:text=The%20role%20of%20total%20protein,of%20protein%20such%20as%20fish.
Lifestyle
https://pubmed.ncbi.nlm.nih.gov/21045705/#:~:text=Recent%20findings%3A%20Lifestyle%20and%20metabolic,and%20meat%20and%20fat%20consumption.
Physical examination
https://www.mayoclinic.org/diseases-conditions/benign-prostatic-hyperplasia/diagnosis-treatment/drc-20370093
Alpha blockers
http://www.bloodpressureuk.org/your-blood-pressure/how-to-lower-your-blood-pressure/medications-for-high-blood-pressure/alpha-blockers/
5 alpha-reductase inhibitors 
https://www.fda.gov/drugs/information-drug-class/5-alpha-reductase-inhibitor-information#:~:text=5%2Dalpha%2Dreductase%20inhibitors%20are,dutasteride%20(marketed%20as%20Avodart).
Prostatic stents
https://www.esht.nhs.uk/wp-content/uploads/2017/06/0373.pdf
Laser therapy
https://www.birminghamprostateclinic.co.uk/greenlight-for-enlarged-prostate-bph/?gclid=Cj0KCQjws4aKBhDPARIsAIWH0JUzYeEHXfqVfS5oKt0uYEQnigNqa_2gJV0FkZQF8mUhsprJengm9CcaAhcQEALw_wcB
Transurethral electrovaporization
https://www.cancer.gov/publications/dictionaries/cancer-terms/def/transurethral-electrovaporization-of-the-prostate
Transurethral microwave thermotherapy
https://www.mayoclinic.org/tests-procedures/tumt/about/pac-20384886#:~:text=Prostate%20gland,-The%20prostate%20gland&text=Transurethral%20microwave%20therapy%20(%20TUMT%20)%20is,%2D%20to%20moderate%2Dsized%20prostates.
A study
https://pubmed.ncbi.nlm.nih.gov/34375453/
Find out more here
https://www.urologytimes.com/view/study-supports-use-of-single-port-robotic-prostatectomy-for-large-gland-bph