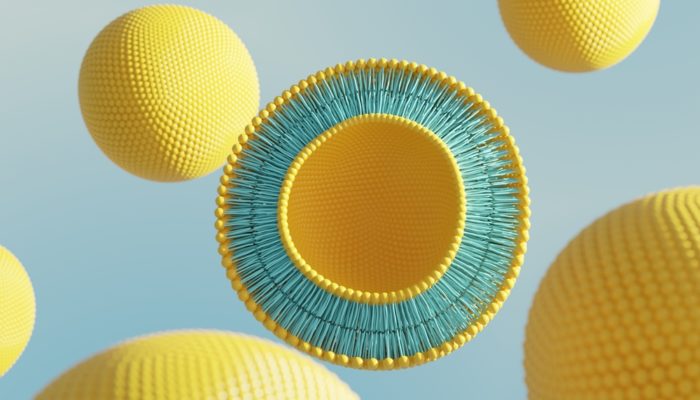 Astaxanthin – the most powerful natural free radical exterminator
April 28th, 2023
We are going to introduce you to Astaxanthin (ASX), the most powerful natural free radical exterminator, 6000 times more potent than vitamin C. 
Why should you include more ASX in your diet? Unstable atoms in the body called free radicals break down healthy cells leading to a degenerative process. But, we can fight against free radicals with potent antioxidants such as ASX. 
Our body naturally produces antioxidants, but it's not enough
Our body naturally produces antioxidants, fat-soluble little soldiers fighting to defend our vital organs and cells, trying to protect us from illness and disease and slowing down the ageing process. The problem is our body doesn't produce enough antioxidants to prevent damage, so it's important to supplement that with potent food sources and health products such as the LiposomePro Liquid.
Why is ASX so beneficial?
The plant-based chemical has higher bioavailability and strength than other natural sources. Why is it so beneficial?
ASX has ocular effects, it improves focus and alleviates macular degeneration, relieving dry eyes, eye fatigue and discomfort 

Brain disease or conditions such as epilepsy, cognitive decline, Alzheimer's disease, or dementia also benefit from ASX

The antioxidant promotes healthy skin, assisting the treatment of psoriasis and dermatitis

It supports lung conditions

such as asthma and cystic fibrosis

ASX eases inflammation and treats

joint pain

Improves heart health 

It can help with male fertility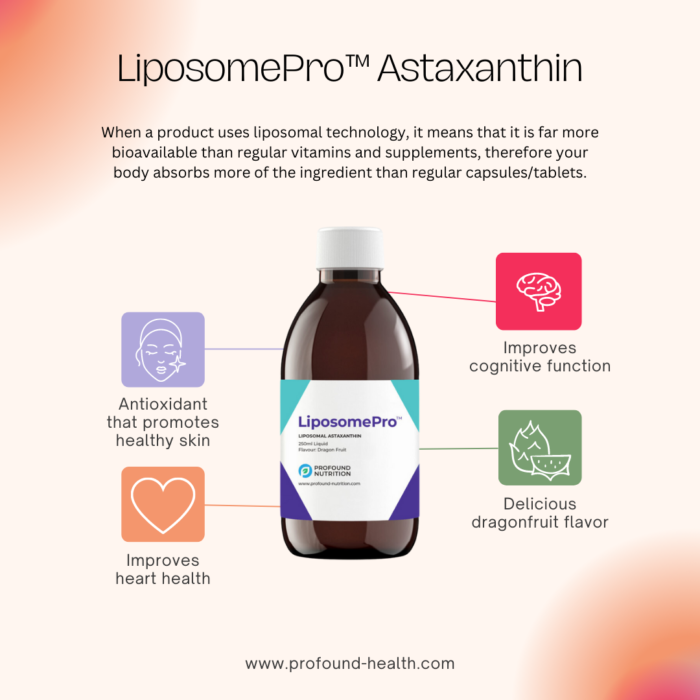 The Role of ASX as a Nutraceutical in Health and age-related conditions
The National Library of Medicine (NHI) published a report called 'The Role of Astaxanthin as a Nutraceutical in Health and age-related conditions.' 
It contains an up-to-date analysis of scientific data on sources and experimental studies on the health benefits of ASX. The concluding comments list ASX as a potent antioxidant, anti-inflammatory, immunomodulator, anti-microbial and anti-cancer activity and, the carotenoid pigment makes a promising compound for the prevention or treatment of different health conditions. 
Read more about the study here.
Protective effects of Astaxanthin on skin deterioration
The NHI also published a report about ASX on skin deterioration. A 16-week clinical study was done with 65 healthy female participants. Participants were orally administered either a 6 mg or 12 mg dose of astaxanthin or a placebo. Wrinkle parameters and skin moisture content significantly worsened in the placebo group after 16 weeks. However, significant changes did not occur in the ASX groups. 
Read more about the study here.
What do a flamingo, salmon and shrimp have in common?
All three contain ASX, a carotenoid pigment, lending itself to the pink/orange colour of flamingos, salmon and shrimp. Foods high in ASX should be part of your diet, including salmon, shrimp, lobster, crab, red seabream, krill, red trout, crawfish, salmon roe and microalgae, which is used as a pigment in food.
Why not give LiposomePro Liquid Astaxanthin a try?
References
https://www.ncbi.nlm.nih.gov/pmc/articles/PMC5525019/