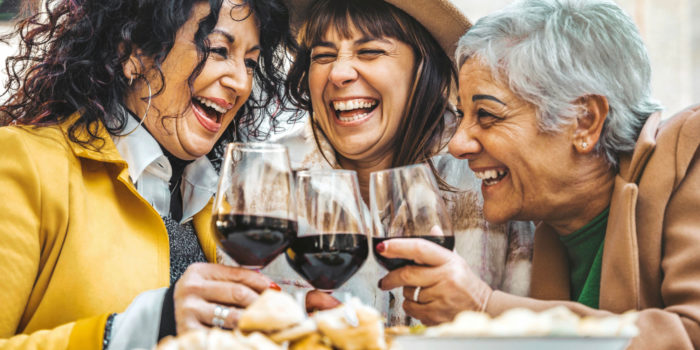 Red wine could give you extra time
November 3rd, 2023
There are more than 50 types of red wine with various flavours and aromas. Italy and France are the top producers of the red grape alcoholic beverage. Not only can the drink have an exquisite taste and a relaxant effect, but according to some experts, red wine could give you extra time. 
Red wine and longevity. 
This article isn't giving you the red light to enjoy a bottle of red wine a day. The exact amount of red wine that should be drunk every day to make it beneficial and safe isn't the same for everyone. Alcohol affects men and women differently due to anatomical and physiological differences.  
So how do you know how much wine will give you extra time? It's hard for the experts to pinpoint, and increasing your consumption of alcohol as a means to prolong your life isn't a good idea.  
The World Health Organization (WHO) has published a statement in The Lancet Public Health stating that when it comes to alcohol consumption, there is no safe amount that does not affect health. Alcohol causes at least seven types of cancer, including bowel and female breast cancer. Dr Carina Ferreira-Borges, acting Unit Lead for Noncommunicable Disease Management and Regional Advisor for Alcohol and Illicit Drugs explains, "The risk to the drinker's health starts from the first drop you drink, the more you drink, the more harmful it is." 
Dr Ferreira-Borges said it is well-established that alcohol can cause cancer, but it's not widely known. She wants cancer health information on the labels of alcoholic beverages.  
However, research has revealed that you can gain benefits from drinking a small glass of red wine every day. Perhaps a glass of chianti with a pasta dish or a Merlot with a beef bourguignon or a Cabernet Sauvignon with a cheese board.  
Red wine contains polyphenolic bioactive compounds, including resveratrol, a potent antioxidant. Resveratrol is organic matter in the skin of dark-coloured red grapes that are crushed and processed to produce a full-bodied or fruity bottle of drink, an excellent accompaniment at the meal table or something to savour after the children have gone to bed.
Resveratrol has tremendous potential to be a front-runner in the race to find the most effective anti-ageing treatments. Resveratrol is an anti-inflammatory, anti-cancer, neuro and cardio-protector – improving mitochondrial function and regulating apoptosis (programmed cell death). It is a safe and effective compound to help with the prevention and treatment of age-related diseases and extend lifespan by inducing autophagy in human cells. It's another weapon to use against oxidative stress responsible for premature ageing.  
Youthful looking skin and shiny locks.  
The natural compounds in red wine can help to preserve collagen and elastic fibres in the skin, and the antioxidants can protect the skin against damage caused by free radicals, resulting in fewer wrinkles and fine lines.  
It can help skin regeneration, minimise face pores and prevent breakouts. It doesn't stop there, red wine is also good for your hair, stimulating blood circulation, helping to prevent hair loss and making hair look more voluminous. Some pharmaceutical brands use resveratrol in their products such as lipsticks, hair masks, serums, soaps and creams.  
Everything in moderation. 
Alcohol consumption, including red wine, should be monitored because too much can harm the body. It can slow liver function, encourage free radicals, stimulate inflammation, expand blood vessels, slow the digestive system and cause dehydration. Excessive drinking can make an impact on mental, emotional and physical health as well as lead to dependence. Like the saying goes, everything in moderation. 
Put the bottle down and go food shopping. 
You don't have to drink red wine to reap the benefits of the natural compound resveratrol. You can add it to your diet by incorporating specific foods, for example: 
Peanuts and peanut butter

 
An enjoyable snack with a drink or a tasty ingredient for power food. This type of nut is high in unsaturated fat, the type of fat found in olive and rapeseed oil. The nuts are a good source of fibre and protein and contain a wide range of vitamins and minerals 
The small green nuts often found in desserts. Pistachios are loaded with nutrients including vitamin B which helps regulate blood sugar levels. Rich in potassium, phosphorous, copper and magnesium and high in antioxidants 
A popular fruit to have as a snack or a tasty accompaniment to a cheese board. Good for heart health, high in antioxidants and helps to manage blood sugar levels. Red and white grapes are a great brain booster! 
The little blue round berries are packed with nutritional value including vitamin C and vitamin K. The juicy fruits promote bone and muscle strength help to manage cholesterol levels and decrease inflammation response 
The red berries are another great fruit which helps to improve the immune system and slow cancer progression. The berries are often consumed in juice form. The berries are filled with vitamins and antioxidants and are an effective fruit to help with urinary infections 
Bilberries are similar to blueberries in nutritional value but less common. Proven to lower blood sugar levels and cholesterol and full of essential nutrients including phenolic acids. The berries are often used in jams, jellies and syrups 
A nice cup of cocoa and a few cubes of dark chocolate are a nice treat. Cocoa and dark chocolate are full of flavonoids which help to reduce inflammation, lower blood pressure and are a form of antidepressant. They contain vitamins and minerals such as iron, zinc and magnesium.
Red wine could give you extra time if you drink it wisely.  
If you are looking for an effective, natural antioxidant supplement, we recommend our product Idebenone (Idebex). It's more than just a powerful antioxidant. It combines energy supplements and cognitive enhancers with a potent antioxidant treatment. Idebenone offers a multitude of anti-ageing benefits. 
References 
https://www.ncbi.nlm.nih.gov/pmc/articles/PMC8289612/ 
https://longevity.technology/lifestyle/antiaging-talk-is-red-wine-good-for-the-skin/#:~:text=Scientists%20have%20been%20studying%20the,protect%20tissues%20inside%20the%20body.